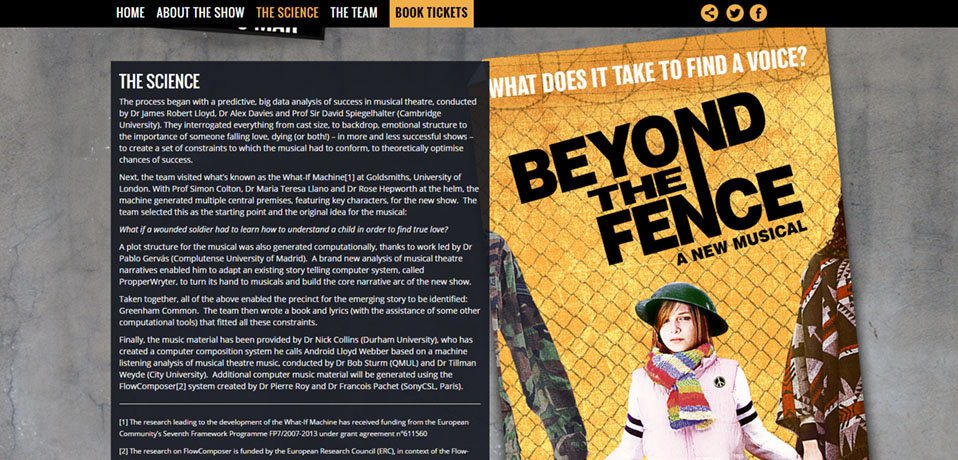 FlowComposer for the music of "Beyond the Fence"!
The music of "Beyond the Fence" — and its plot, which centres around a group of women living in a peace camp protesting U.S. cruise missiles in 1982 — is almost entirely created by a set of computer algorithms, in an example of  "computational creativity."
Beyond the Fence is conceived by computer and substantially crafted by computer. It is modelled on a statistical study of the 'recipe for success' in hit musicals. This ground-breaking process s being filmed for a Sky Arts TV series titled 'Computer Says Show', chronicling this unique experiment. In collaboration with leading experts in music, computation and the science of human creativity, composer Benjamin Till and his husband, writer and actor, Nathan Taylor, the award winning team behind 'Our Gay Wedding: The Musical' (Channel 4), will bring a whole range of computer-generated material to life, presiding over the creation of an emotionally powerful and exciting West End show which is at the same time the grandest of experiments. That experiment has been designed and co-ordinated by Dr Catherine Gale, who also produces and directs the series.
Music was provided by Dr. Nick Collins' (Durham University) computer composition system he calls Android Lloyd Webber based on a machine listening analysis of musical theatre music, conducted by Dr. Bob Sturm (QMUL) and Dr. Tillman Weyde (City University). Additional computer music material has been generated using our FlowComposer system.
Beyond the Fence plays at the Arts Theatre in London's West End from 22 February – 5 March 2016, directed by Luke Sheppard, choreographed by Cressida Carre and produced by Neil Laidlaw. Press Night is Friday 26 February, 7pm.
"FLOW MACHINES"、"フローマシーンズ"は、ソニー株式会社の商標です。
"FLOW MACHINES"、"フローマシーンズ"は、ソニーコンピュータサイエンス研究所が開発した技術です。
The research leading to these results has received funding from the European Research Council under the European Union's Seventy Framework Programme (EP7/2007-2013 Grant Agreement no. 291156)
The research leading to these results has been conducted by Sony Computer Science Laboratories Paris (Sony CSL Paris) and Pierre and Marie Curie University (UPMC)