Flow Machines in a Digital Society
Flow Machines in a Digital Society: the Digital is everywhere, it affects all areas of our life – law, health, security, education, environment, economy, culture, defense …   This omnipresence of the digital dimension raises many social, ethical and legal issues which we need to address.   The interdisciplinary seminar "The Digital Society"  (Numérique et Societé") in Paris is a unique opportunity to discuss key issues related to the impact of the digital world in our societies. Experts, scientists, businessmen, members of the civil society and politicians will find a showcase for discussion and exchange.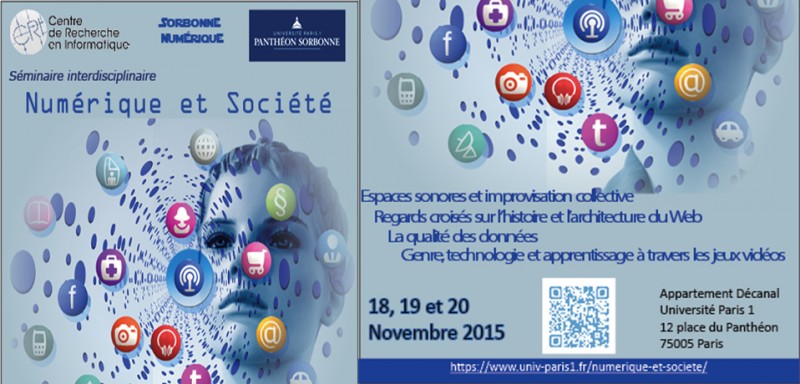 This seminar is organized by the Centre for Research in Computer Science from the University Paris 1 Panthéon-Sorbonne with the Bonus Quality Research (BQR) awarded by the Scientific Council of the University.
In this context, François Pachet presents the results of the Flow Machines project discussing the implications on society of a music composed by artificial intelligence.
How will composer will use the new tools offered by AI? How will the public will react? What will be the next business model for artificially composed music?
18-20 november 2016  (in French) :click here for the detailed program.
Check out the website of the seminar Numérique et Societé

Wednesday November 18: Espaces sonores et improvisation collective (13h-16h) François Pachet et Mathieu Saladin